Formulated To Help Support the Body's

Normal Metabolism
NuBody MB - Metabolic Balance is a nutritional supplement formulated to help support the body's normal metabolism. A few simple life style adjustments, exercise, proper diet and the use of effective nutritional supplements may greatly support normal metabolism.


NuBody MB is a powerful synergistic blend of 11 powerful ingredients, each of which has the potential to help the body reduce blood sugar and insulin levels, NuBody MB is an all natural nutritional supplement formulated tohelp the body overcome insulin resistance. When the body's cells become resistant to insulin, blood sugar levels as well as insulin levels rise in the blood. Left unchecked, this can lead to Type 2 diabetes.
BENEFITS
NuBody MB - Metabolic Balance is a synergistic blend of 12 ingredients, each of which may have the potential to help support the body's healthy metabolism and general well-being.
Chromium 600 mcg- Some authorities state that "an estimated 90% of Americans are deficient in the important nutrient, Chromium." Chromium, a trace mineral, may support normal metabolism.
Vanadium 10mcg -  Vanadium, another trace mineral that may support normal metabolism.
Biotin 5mg - Vitamin H, more commonly known as biotin, is a white soluble vitamin and considered part of the B complex group and may support the metabolism of carbohydrates, fats, and amino acids.
ALA (Alpha Lapoic Acid) 100mg - May provide antioxidant support.
Mulberry Leaf Extract 150mg-May support healthy assimilation of nutrients and normal metabolism.
Nopal Cactus 15mg-May support healthy metabolism.
Glucomannan (Konjac Root P.E.) 100mg - Soluble fiber may support normal cholesterol levels, healthy digestion & elimination, and normal metabolism.
Gymnema Sylvestre P.E. 75%, 5mg-May support normal energy and appetite.
Fenugreek Seed 5mg-A source of valuable fiber and nutrition.
Cinnamon Bark Extract 100 mg-May support natural antioxidant and immune function.
Bitter Melon Extract (Momordice Charantia) 30 mg- Rich in iron, calcium, potassium, beta carotene, and phosphorus; may support normal metabolism and immune function.
Banaba Leaf Ext. P. E. 3%, 50mg-May support normal metabolism.
USAGE
Take One Capsule With Meals
SUPPLEMENT FACTS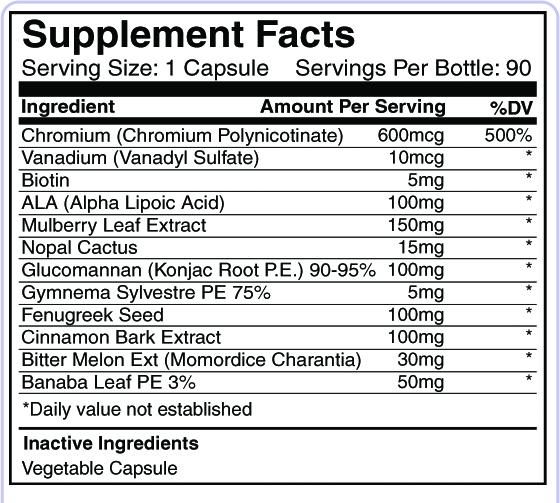 Enhance your HEALTH & improve your FINANCIAL situation to live a life on YOUR terms!