POWERED BY

POSITIVE INGREDIENTS

THAT SUPPORT COMPLETE

WELLNESS, ENERGY & A HEALTHY HEART

!
MO2™ is a dietary supplement blend of the highest-grade organic Moringa oleifera and low dose base L-Arginine with other plant-based superfood ingredients. This synergistic formulation triggers the production of healthful Nitric-Oxide in the body, and provides the body with all the physiologically dynamic nutrition needed. Moringa oleifera is considered to be the most phyto-nutrient dense plant on the planet, and the world's best kept nutritional secret. Moringa oleifera has the ability to positively transform the current status of health and decrease the incidence of disease around the world by supplying every aspect of nutrition, making it a complete food in its own right. Increased Nitric-Oxide production supports healthy circulation to the body's vital organs, including the heart and brain. Our natural ability to produce Nitric-Oxide is reduced as we age. With MO2™ you're providing every system in your body with the supplementation it needs to experience optimal wellness.

ALL 9 ESSENTIAL AMINO ACIDS
Isoleucine, Leucine, Lysine, Methionine, Phenylalanine, Threonine, Tryptophan, Valine, Arginine
VITAMINS
Vitamin A (Alpha and Beta-Carotene), B, B1, B2, B3, B5, B6, B12, C, D, E, K, Folate (Folic Acid), Biotin, and more
9 ADDITIONAL AMINO ACIDS
Alanine, Aspartic Acid, Cystine, Glutamine, Glycine, Histidine, Proline, Serine, Tyrosine
MINERALS
Calcium, Chloride, Chromium, Copper, Fluorine, Iron, Manganese, Magnesium, Molybdenum, Phosphorus, Potassium, Sodium, Selenium, Sulfur, Zinc
OTHER BENEFICIAL INGREDIENTS
Chlorophyll, Carotenoids, Cytokinins, Flavonoids, Omega (3, 6, 9) oils, Plant Sterols, Polyphenols, Lutein, Xanthins, Rutin, and more
HEALTH BENEFITS OF MORINGA
Delivers anti-inflammatory support
Promotes healthy digestion
Heightens mental clarity
Increases energy
Provides natural anti-aging benefits
Nourishes body's immune system
Helps maintain healthy blood sugar levels
Helps maintain healthy circulation
The PYUR Global Moringa plantation boasts fertile volcanic soil with no traces of heavy metals. Fertilized with compost originating from the Moringa trees, the volcanic ash plays a major role in aerating the soil. Furthermore, water retention is optimized enriching the soil with minerals that create healthier more nutritious crops. This phenomenon enhances plant growth and the proliferation of plant pro-biotic bacteria. Our 'Certified Organic' plantation contains no chemical pesticides or fertilizers. Imagine the potency of our plants grown in organic soil, made nutrient rich from the volcanic origin and fertilized with Moringa tree compost abundant with nitrogen, potassium and phosphorus.
BENEFITS
Supports healthy circulation – sends a signal for arteries to relax and expand
Supports healthy blood pressure levels
Delivers a significant portion of antioxidant protection
May help to combat premature cardiovascular aging
USAGE
Mix 1 serving (1 scoop) with 4-8 oz. water. Stir to dissolve. If water is very cold, mixture will take about one minute to dissolve. One serving (1 scoop) may be taken twice per day.
NOTE: Do not take if sensitive to energy for many hours before bedtime; may cause sleeplessness.
SUPPLEMENT FACTS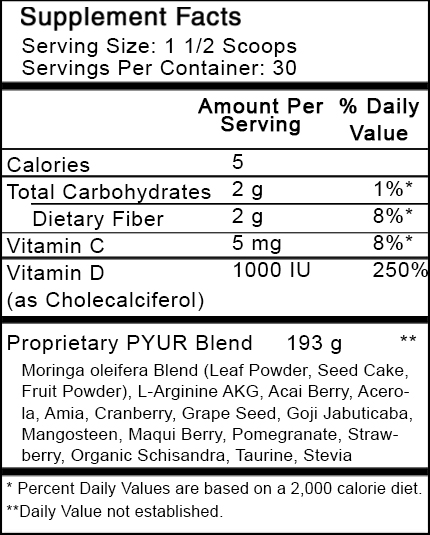 Enhance your HEALTH & improve your FINANCIAL situation to live a life on YOUR terms!