Liquivive is a Great Tasting,

COMPRESENSIVE

whole-food, 100% plant derived total nutritional supplement.
Liquivive is a great tasting, COMPREHENSIVE whole-food, 100% plant derived total nutritional supplement. This proprietary balanced blend of 100% vegetarian ingredients delivers 211 vitamins, minerals, antioxidants, enzymes, fruits and vegetables, amino acids, herbs, and other important accessory nutrients to your body. In fact, Liquivive's 211 total nutrients--are more than eight times the amount of the best selling nutritional supplements in the world. This singular supplement provides the foundation for your nutritional needs. Your body was not designed to absorb ground up rocks and synthetically derived nutrition. Many popular supplements are exactly that. Your body was designed to derive nutrition from natural and whole food sources. All natural plant-derived supplementation is the only way you can absorb what you are consuming in a supplement form. Liquivive is the next best thing to having a 100% balanced diet of healthy and unprocessed whole foods, and it actually concentrates a variety of what you need into one convenient supplement.

This product contains no gluten, sucrose, starch, wheat, yeast, artificial colors or flavors. All Natural & 100% vegetarian.
BENEFITS
Supports:

Rich in vitamins and major minerals
Botanical antioxidants and essential fatty acids
Proprietary herbal infusion
Fruit and vegetable phytonutrient complex
Whole green superfood complex
Immuno activation blend
USAGE
STEP 1: Take One Cap Full (30ml, 2 Tbsp, 6tsp or 1oz)
SUPPLEMENT FACTS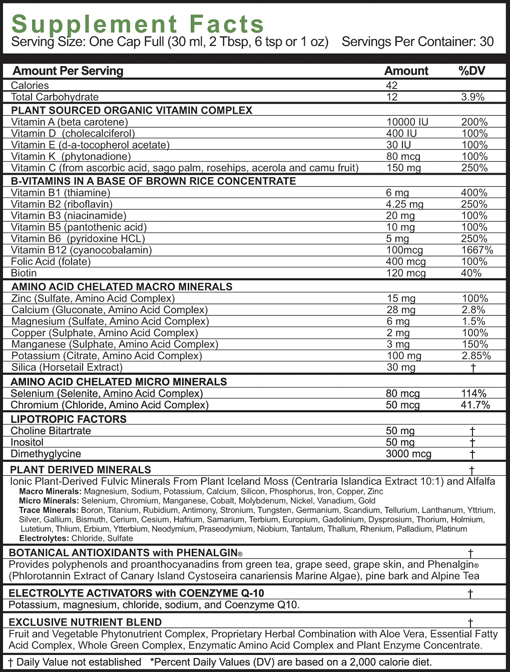 Enhance your HEALTH & improve your FINANCIAL situation to live a life on YOUR terms!